"The secret of success in life is to be ready for your opportunity when it comes."
Earl of Beaconsfield
Welcome to the GoFormulate™ website, where your formulation success begins…….
GoFormulate™ is a gateway for formulators to design and simulate polyurethane based products according to a set of screening criteria such as foam density, percent isocyanate, processing ratios and raw material prices.  Our primary mission is to help polyurethane formulators develop products quicker, safer, and more efficiently. The developer has taken his many years of extensive formulating experience to develop the design programs. 
Whether you are new to the polyurethane industry and just learning how to formulate, or a seasoned formulator, you have come to the right place to formulate more accurately and efficiently.  Polyurethane formulating has never been so easy using the GoFormulate™ simulation and design programs. Have you ever tried to formulate two-component polyurethane and targeted a certain density and at the same time meet a certain processing parameter such a 1-to-1 volume ratio?  Also, some foam systems are more exothermic than others and it affects the density.  Can you predict the density based on the exotherm and the amount of blowing agent?  If you do not have extensive knowledge in developing foams, this can be quite a challenge.
How about coming up with a pre-polymer with a certain percent isocyanate at the same time minimizing quasi-prepolymer formation or free isocyanate monomer content?  This is one question that is often addressed in developing pre-polymers for use in cast elastomer applications or reactive hot-melt adhesives.
Whether you want to formulate rigid foams, flexible foams, reactive hot melt adhesives, cast elastomers, prepolymers, or any other polyurethane based product, the design program allows you to target any ratio by weight or by volume and isocyanate index.  The GoFormulate™ design program also works for polyurea and polyisocyanurate systems.
If you want more guidance through your formulations, technical and consulting services are available.
Meet the Founder of GoFormulate™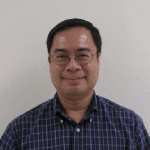 Dr. Gus Ibay is not new to simulation and modeling.  Dr. Ibay holds a Doctor of Philosophy in Organic Chemistry.  After graduate school, he served on active duty in the military as a biochemist at the U.S. Army Institute of Dental Research for four years.  After completion of his active duty obligation, he continued to be in the Army Reserves for several more years, during which, he was assigned at the U.S. Army Institute of Chemical Defense where he spent two weeks per summer over a number of years performing molecular modeling to help design catalytic antibodies for neutralizing the effects of exposure to chemical warfare agents.  While still a member of the reserves, his career was just beginning in the polyurethane industry.
As his professional career progressed, he developed his own formulating pre-calculators and made improvements upon improvements on them as his assignments changed.  After over two decades in the polyurethane industry acquiring a diversity of experience as a hands-on product developer and formulator, Dr. Ibay developed the GoFormulate™ simulator and design software.  Even after 20 years, his passion is formulating; and he continues to work as a formulator.  Dr. Ibay has successfully formulated and commercialized the following types of polyurethane products:  two-component foam-in-place gaskets, adhesives, spray foams, molded foams and spray coatings, cast and spray elastomers, one component reactive-hot melt adhesives and moisture-cure coatings.  He has also formulated polyisocyanurate foams and polyurea coatings.
Dr. Ibay is well-versed in many of the raw materials that go into these formulations such as polyols, isocyanates, curatives, polyamines, silicone and non-silicone surfactants, catalysts, fillers, flame-retardants, blowing agents, anti-settling aids, dispersing additives, air-release additives, and many more.  He is also named an inventor in patents, gave presentations in conferences, and authored publications in his field.